About Blau Family Chiropractic & Integrated Wellness
For more than 26 years, Blau Family Chiropractic & Integrated Wellness has helped the Portage community "focus on what matters" regarding their health. We're on a mission to "Care, Educate & Serve" you and your family.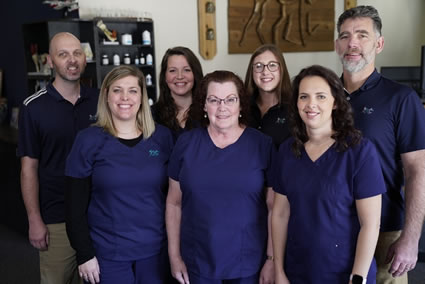 Our Mission
Our mission at Blau Family Chiropractic & Integrated Wellness is to reach as many people as possible with excellent and compassionate chiropractic, exercise, lifestyle care, and education. We promote and empower healthier individuals, family and community to achieve their God-given potential.
We'll show you what to pay attention to to make considerable improvements in how you feel. Dr. Kevin Blau can help you reclaim your life and achieve your goals through powerful, all natural therapies. We focus on your entire lifestyle, because there's nothing more precious and finite than our time on this beautiful earth.
MEET DR. BLAU

Helping the Community
Dr. Blau opened his practice in Portage to work with the community. Our vision is to change the medical-based culture to one of hope and healing, health and wellness. Many doctors and team members have trained with us during our 10-plus years at this location. We're proud of the impact they're making on the health of their communities. A few examples of how Blau Family Chiropractic & Integrated Wellness helps the community is by Building Beds with Sleep in Heavenly Peace as well as doing drive days for Boys and Girls Club and local pantries.
Our Commitment to You
We love working with practice members who are serious about their health and want to be active participants in the process. Those who want to be better, put in the time and effort to be better, and follow through with recommendations.
Like the dedicated mom, who despite many challenges, brings her child in because she puts their health first. Or the busy professional who makes time in an overcrowded schedule.
Our practice members receive a one-year care plan when treatment begins. We understand this is a big commitment to make; the choice is yours. We serve you where you are, while showing you what you can have.
Let Us Help You
Chiropractic is a well-established form of natural health care. If you haven't gotten the results you want and deserve elsewhere, why not see what chiropractic can do for you? Contact our office to make an appointment.
---
About Blau Family Chiropractic & Integrated Wellness | (608) 742-1300