Blau Family Chiropractic & Integrated Wellness Community Outreach
Blau Family Chiropractic & Integrated Wellness offers various events, workshops and more to help our community of Portage be as healthy as it can be. For more information on any of the community outreach events below, call us at 608-742-1300 or contact Falynne Pippen, Community Outreach Assistant at coa@blauchiropractic.com.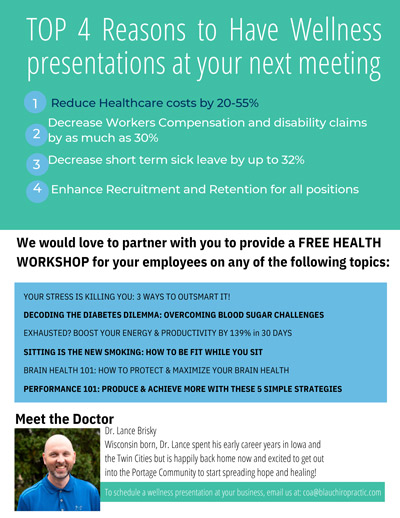 We Come to You!
We would love to partner with you to provide a FREE health workshop for your employees on any of the following topics:
Your Stress Is Killing You: 3 Ways to Outsmart It!
Decoding the Diabetes Dilemma: Overcoming Blood Sugar Challenges
Exhausted? Boost Your Energy & Productivity by 139% in 30 Days
Sitting is the New Smoking: How To Be Fit While You Sit
Brain Health 101: How to Protect & Maximize Your Brain Health
Performance 101: Produce & Achieve More With These 5 Simple Strategies
To schedule a wellness presentation at your business, email us at coa@blauchiropractic.com. Check out more info here (link to brochure).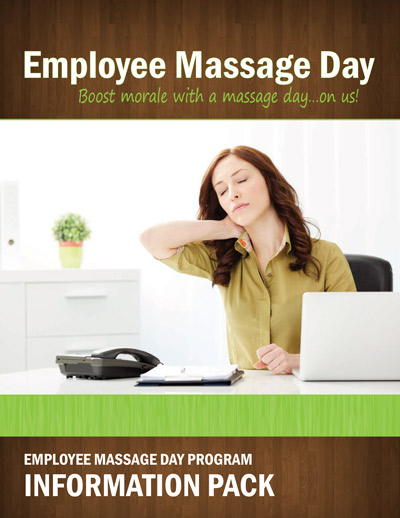 Treat Your Employees
Massage has been used all over the world to remove muscle tension and interference from the body. Our outreach program provides soothing massage therapy to your employees with no strings attached and fulfilling our mission to help people in our community live healthier lives. It also allows people to learn about us in case they need our services in the future.
Each year we select companies in our community for a day of healing and rejuvenation. We know from experience that companies who use our free massage program enjoy this relaxing break in the work day and experience a more positive work environment. Our massage program is an excellent way to show appreciation of your employees… and it is FREE to you.
Did you know that stress can impact your spine, your brain and your overall health? We have technology that is able to detect where the nervous system is under stress. Treat your employees, your customers, yourself to a spinal screening.
Learn More Today
Are you curious about having us come to your office? Our team is standing by to answer any questions. Call today!
CONTACT US
---
Blau Family Chiropractic & Integrated Wellness Community Outreach | (608) 742-1300